Arbona County
(Narentian )Арбонска жупа
(Croatian) Rabska županija



Location of Arbona

Capital
Arba(Арба, Rab)
Official language(s)
Narentian, , Croat,Slovak,...
Date of creation
26th September 2012
The Arbona county is one of the Federal subjects of Narentia. It occupies the Croatian island of Rab.
The island is first heard of under the Illyrians in 360 BC. It was part of Liburnia and then part of the Roman Empire. The emperor Octavian Augustus built town walls and gave Rab the title of Municipium.
Saint Marinus, the founder of the mini-state of San Marino, originated on Rab, whence he fled during the religious persecutions of the Emperor Diocletian (this ancient tie is commemorated in the present twin-city agreement between Rab and San Marino).
During the Middle Ages Rab was part of the Byzantine Empire, then, for a short time, part of the Kingdom of Croatia, then in 1358 the island came under the rule of King Louis the Great, the Angevin ruler of Hungary.
During the Renaissance it was ruled by Venice from 1409 until the end of 18th century followed by a brief interlude under Napoleon. It was eventually annexed by the Habsburgs in 1815 and remained under Austrian rule till 1918.
The Arbona county was one of the first federal subjects of Narentia, dating back to its creation on the 26th September 2012.
Due to no residing narentian population, the post of the župan was long still vacant.Currently it is held Shady Morsi
Shady Morsi (18.9.2013-ongoing)
Administrative divisions
Edit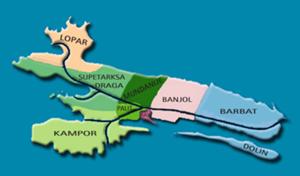 The county is divided into eight
občine
:
Arba (Rab)
Banjol
Barbat
Dolin
Kampor
Lopar
Mundanije
Palit
Supetarska Draga
References
Edit
Republics
Counties

Arbona,Diviaky County,

Pravoplavci

Srnska

Vis
Provinces
Okrugs
Federal cities

Novigrad
Ad blocker interference detected!
Wikia is a free-to-use site that makes money from advertising. We have a modified experience for viewers using ad blockers

Wikia is not accessible if you've made further modifications. Remove the custom ad blocker rule(s) and the page will load as expected.