The
coat of arms of Narentia
consist of a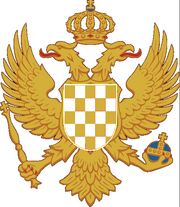 double-headed eagle with a chequerboard in the middle.
Symbolics
Edit
The eagle was taken from the Coat of Arms of Montenegro, and the chequerboard from the Croatian one.
It is to represent the South Slavic influences in Narentian culture.
Narentia Topics
Ad blocker interference detected!
Wikia is a free-to-use site that makes money from advertising. We have a modified experience for viewers using ad blockers

Wikia is not accessible if you've made further modifications. Remove the custom ad blocker rule(s) and the page will load as expected.