The flag of Narentia was influenced by the former flag of Slevania, but the Narentians found it too cmplicated and they simplified it .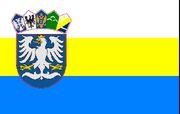 The very first constitution of Narentia of the 23rd spetember adopted the flag.
It soon became a symbol of National identity and was heavily used during both the Slevan Reaction and Iryllian Armed Rebellion as a symbol of allegiance to Narentia. It was much easier to draw than the old Slevan flag or the Iryllian flag.
The flag was modified on the 8th October 2014, when a more goldish colour was adopted.
The colors date back from Slavinsk Federation, a micronation covering Izkanska and Iztarska in summer 2011.
The white symbolizes peace and neutrality, the yellow agriculture and the blue symbolizes freedom.
Narentia Topics
Ad blocker interference detected!
Wikia is a free-to-use site that makes money from advertising. We have a modified experience for viewers using ad blockers

Wikia is not accessible if you've made further modifications. Remove the custom ad blocker rule(s) and the page will load as expected.