Iryllian Total War is a multiplayer real-time strategy browser game created by Jadroska-lab and published by Jadranska.net (with help of Srnskan historians) in which the player manages one of the countries in Iryllia during various periods The player competes with countries controlled by other players playing the same game, and with countries controlled by the computer. Resource management, province upgrades, and alliances play key roles in the game, in addition to the conquest aspect. The main view of the game is a map that can be zoomed in and out, but there's also a province view, which lets you see the upgrades to that province in a more realistic view than the list format that many games of this type have.[4]
Factions:
Edit
Slevania-is formed by merging the following nstions

Izkania-based in Novomostje
Iztaria-a small faction
Snovina-

Narentia

Dvor
Mys Dobrey Nadeye

Prednádražie
Lasvaria-areas of Lasvar Republic except Izkania and Snovina
Jadranska
Kazania
Itoria-currently Virdograd
Prizrenia
Srnska
Srnska Krajina
Subenia
Rebellions
Edit
Suvakia
Novigrad
National State of Narentia
Orthodox Narentia
Nysna
Suvak Republic
Kazanian Republicans
other features
Edit
The military units are either regular military, paramilitary, freedom fighters , terrorists or militia. The religions are Roman Catholic, Orthodox, Deist, Atheist, Lutheran
WAR IN IZTARIA MOD
Edit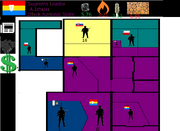 The war in Iztaria features the conflicts in Iztaria prior to the establishment of Slevania. The playable factions include Izbiak National State, Republic of Izba-Ursanistan, Republika Slovenska Tarica, Iztaria and two unplayable factions Slovakia and Izkania.
Factions:
Edit
Izbiak National State (purple)- provinces ( noth to south)- Astovce, Izbani, Tversk,Predsieň
Republic of Izba-Ursanistan (golden)- province N to S : Postel, Kupelsk,Zahot, Priknovska (far west)
Republika Slovenska Tarica (blue)- provinces N to S : Puostel, Puostelotversk,Istočna Khotba,

Višnij Belotvers,Nižnij Belotversk, Kuhiňa
Iztaria (dark blue): provinces N to center to east: West Khotba, Jabučka, Taroslavin-outskirts, Taroslavin -city, Fayerau, Balkan
Unplayable: Slovakia (light yellow), Protectorate of Zelenogorsk (green), Izkania (blue-green)
| Faction | Flag | Faction leader | Faction heir | Capital | colour |
| --- | --- | --- | --- | --- | --- |
| Izbiak National State | | Andrej Izbiacki | | Astovce | purple |
| Republic of Izba-Ursanistan | | Pribislav Medveđ | Jan Ursanski | Postel | golden |
| Republika Slovenska Tarica | | R.Tarica  | | Puostelotversk | blue |
| Iztaria | | Vitomir Petrović | | Taroslavin-city | dark blue |
| Tsarist Republic of Estoria | | Lžidimitrij Ivanović | | Estori | orange |
| Slovakia | Flag of Slovakia | Ivan Gašparovič | Andrej Kiska | Bratislava outside of map Note Slovakia can occupy Provincies | light yellow |
| Protectorate of Zelenogorsk | | National Council | National Council | Zelenogorsk | green |
| Izkania | | Veleslav Posavinović | Jan Hučar | Novomostje outside of map | blue-green |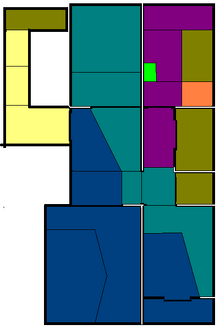 Controversy
Edit
in 10 october 2014 the Republic of Srnska the game because according to the Srnskan government it will ' encourages ethnic hatred in Iryllia' Also the publishers said the game is a little inaccurate because the same land has been held by more factions at different times.
Ad blocker interference detected!
Wikia is a free-to-use site that makes money from advertising. We have a modified experience for viewers using ad blockers

Wikia is not accessible if you've made further modifications. Remove the custom ad blocker rule(s) and the page will load as expected.