Kosnik Okrug, formerly known as
Iztaria
until 23.10.2014 is an Okrug of the
Aikavian Federation
.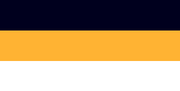 Etymology
Edit
The name is derived from two border- patrolling groups.
Cossacks-on the borders of Russia
Chetniks- on the Serbian borders
Administrative division
Edit
The okrug is divided into the following sectors
Taroslavin
Kuchiňa
Kupelno
Izbiacko
Hotba
Puostelsko
Prizemie
Horniaki
Dolniaki
Prioknie
Languages
Edit
The only recognized regional languages are :
Izbiak language (practically Slovakwith absence of y,ä and ľ, plus some local dialect)
Kosnikan language- (basically Slovak written in Cyrillic)
Ad blocker interference detected!
Wikia is a free-to-use site that makes money from advertising. We have a modified experience for viewers using ad blockers

Wikia is not accessible if you've made further modifications. Remove the custom ad blocker rule(s) and the page will load as expected.