Since declaring independence, Narentia was involved in three military conflicts, mostly against other former micronationalists in the region.
Structure
Edit
1st Division (gen. A. Izbjacki)

1st Regiment (Novigrad,pl. M. Lasavski)-3
2nd Regiment (Slobodarevo, pl. G. Kovač)-2

2nd Division(gen. Z. Tvrtković)

3rd Regiment (Novomostje, pl. V.Vojislav)-2
4th Regiment (Srnska, pl. D. Pajkič.)-1
5th Regiment(Bojnjice, pl. J. Itrov)-2
There were three čatas in the Narentia army:
Чата Хајдук- Hajduk čata- volounteer unit
Чата Плавобранци- Plavobranci čata-Federal army
Чата Народна Бластибрана- Narodna Vlastibrana semi-military unit.
| čata | Latin name | type | battles fought |
| --- | --- | --- | --- |
| Чата Хајдук | Hajduk | volounteer unit | 4 |
| Чата Плавобранци | Plavobranci | Federal (official) army | 4 |
| Чата Народна Бластибрана | Narodna Vlastibrana | irregular militia | 5 |
17 .12.2012- 17.5.2013
The reorganization of the Narentian army came on the 17th December 2012.
Federal Army

1st Division

1st Regiment (Novigrad)
2nd Regiment (Novomostje)
3rd Regiment (Prizren)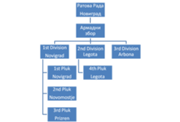 2nd Division
3rd Division (planned)

Hajduks (foreign legions)

1st (Slovak) Regiment
2nd (Iryllian) Regiment

Narodna Vlastibrana

Batalion "A"
Batallion "B"
Војак (Private)
Слабодник(Corporal)
Четар (Sergeant)
Прапорзик (2nd Lieutenant)
Поручик (Lieutenant)
Плуковник (Colonel)
Маршал (Field-Marshal)
General
Weapons and equipment
Edit
Most weapons are provided by the Narentian company Prizbroj.
| Weapon | Ammount | Origin |
| --- | --- | --- |
| Prak Pr4X5 | 2x | Prizbroj |
| Spir AX-3 | 25x | Prizbroj |
| Spir AX-1 | 10x | Prizbroj |
| Palitsa Pr 101 | 10x | Prizbroj |
Currently, the army is trying to change the weapons from spears to more effective airsoft weaopns.
Novigrad Armory (spears)
Slobodarevo Armory (airsoft weapons)
Novomostje Armory (peasant polearms)
Dvor Armory (peasant polearms)
The Plavobranci uniform consists of a blue coat, the other uniforms have not yet been finished
Past conflicts
Edit
Main article:Slevan Reaction, Iryllian Armed Rebellion, Independent State of Lasavia
During the Narentian Civil War, differnet parts of the Army fought against itselves:
The Prizren government was backed by the 3rd Regiment, the Novigrad government by the 2nd Regiment, and the Nationalists by the 1st Regiment and the narodna Vlastibrana. However, the 4th Regiment declared neutrality.
Currently, the 1st and 2nd Regiment are deployed in Novigrad, due investigation of the Cherrycream plot.
Since the 31st October, the 2nd Division led by gen. Tvrtković fights in the War on Iryllian Communism
Ministers of Defense
Edit
Ministers of War
Milan Lasavski , NDZ (22.12.2012-17.4.2013)
Slobodan Pavelić PPP (18.4.2014-19.4.2013)
Ministers of Defense
Marek Tomanić NDI (6.5.2013-13.5.2013)
Marek Tvrtković, LP (10.6.2013-21.9.2013)
Milan Lasavski LP (21.9.2013-16.10 2013)
Milan Lasavski KP (16.10.2013-ongoing)
Narentia Topics
Ad blocker interference detected!
Wikia is a free-to-use site that makes money from advertising. We have a modified experience for viewers using ad blockers

Wikia is not accessible if you've made further modifications. Remove the custom ad blocker rule(s) and the page will load as expected.