The Narentian Orthodox Church is a religious movement which was started in Narentia
Organization
Edit
Patriarchate of Novigrad (2012- 20.4.2013)
Patriarchate of Novomostje (20.4.2013-6.5.2013)
Patriarchate of Bojnjice (6.5.2013- 14.5.2013)
Patriarchate of Slobodarevo and Narentia (14.5 2013- 4.9.2014.)

Eparchy of Lasvaria (24.5. 2013-04.09 2013)
Eparchy of Bojnjice (22.5.2013-04.09.2014)

Patriarchate of Dubnjica (04.09.2014-onwards)
Current situation
Edit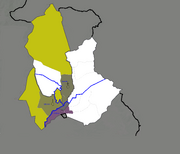 List of Patriarchs and Eparchs
Edit
Patriarchy seat
Patriarch
Since
Until
Novigrad
Vojislav Marković
2012
20.4 2013
Novomostje
Vojislav Marković
20.4. 2013
6.5 2013
Bojnjice
Vojislav Marković
6. 5. 2013
9. 5 2013
Jaroslav Itrov
9.5 2013
14. 5 2013
Slobodarevo
Goran Kovač
14.5 2013
1.9 2013
Vojislav Marković
2.9 2013
20.11 2013
Vladimir Vojislav
20.11.2013
4.9. 2014
Dubnjica
Ivo Pajčik
4.9 2014
 ?
Adherents
Edit
Most Orthodox are centered around the city of Bojnjice in Pravoplavci and Srnska. Many now speak the Srniak language.
Worship, liturgy and doctrine
Edit
The doctrine of the NOC is found in the Nicene Creed
The Narentian Orthodox Church recognizes all Catholic saints, but also:
Sveti Gorazd
Sveti Rastislav
Sveti Andrej Hlinka
Sveti Jozef Tiso.
The current Patriarch, Ivo Pajčik proposed to rename the Church into the Aikavian and Srnskan Orthodox Church. The  Church will be renamed on the 12.9.2014.
Ad blocker interference detected!
Wikia is a free-to-use site that makes money from advertising. We have a modified experience for viewers using ad blockers

Wikia is not accessible if you've made further modifications. Remove the custom ad blocker rule(s) and the page will load as expected.