The Narentian language

| | |
| --- | --- |
| Spoken in: | Narentia |
| Total speakers: | 5 |
| Location: | Europe |
| Language family: | (Constructed language family): |
| Official language of: | Narentian Republic, Pravoplavci County |
| Regulated by: | No official regulation |
The Narentian language is a language of the Iryllian language family, written in Serbian Cyrillic script and used in Narentia as the Official language. It is spoken by most of the micronations citizens.
The Narentian alphabet is based on the Serbian Cyrillic alphabet.
Slobodarevo-Staroselo dialect
Novigrad dialect
Pravoplavci dialect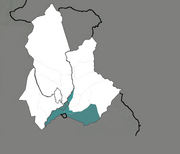 Narentia Topics
Ad blocker interference detected!
Wikia is a free-to-use site that makes money from advertising. We have a modified experience for viewers using ad blockers

Wikia is not accessible if you've made further modifications. Remove the custom ad blocker rule(s) and the page will load as expected.