Izkan Republic

Izkanflag Izkancoa

Anthem Jubim će jubim, vlasti moja
Central Europe

Capital city Novomostje
Largest city Novomostje
Official language(s) Slovak, Izkan
Official religion(s) Roman Catholic
Demonym Izkan
- President

A.V. Posavinović
- President A.V. Posavinović
Legislature Izkanski Parlament
Established 20th. November 2011
Population 120
The Republic of Velka Lipa i Snovina was a micronation bordering Slovakia on all sides. Today it is part of Narentia.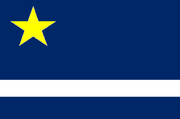 The republic was founded on the 11th .2. 2012. In late spring 2012 it became part of Slevania.
The republic is quite often remembered by the Lasvar people, stating it as the direct precursor of the Lasvar Republic
The only president was Zoran Tvrtković
Existing nations

Kingdom of Srnska, Republic of Skarajevo ,Aikavian Federation , Republic of Iztarska , Republic of Krapina

Extinct nations

Republic of Nýsna , Patrachinate of Kazania , USIS, Republic of Srnska , Republic of Jadranska,Hetmanate of Kazania,Principality of Virdo ,Narentia, Republic of Prednádražie, Srnieckia,Itoriak republic Vartakia Izkania, Iztaria,

Seperatist groups
Seperatist groups no longer active

Musrati Republic, Republic of Kazania-Nýsna , Preskovan Republic, Suvak Republic,Cherrycream plot, Workers´ Soviet Republic Republic of Srnska Krajina Lasvar Republic Iryllian Armed Rebellion, Slobodarsko-Jablonječka Republic Prizrenija Republic Izornia rebels Izba-Ursanistan, Izbiak National State, Republika Slovenska Tarica
Narentia Topics
Ad blocker interference detected!
Wikia is a free-to-use site that makes money from advertising. We have a modified experience for viewers using ad blockers

Wikia is not accessible if you've made further modifications. Remove the custom ad blocker rule(s) and the page will load as expected.