Srnska County
(Narentian )Срнска жупа
(Slovak)Srnská župa



Location of Srsnak

Capital
Śipkovo(Шипково )
Official language(s)
Narentian, ,Slovak,...
Date of creation

3rd October 2013

Župan
Mirko Srnkič
The County of Srnska is one of the Federal subjects of Narentia, bordering the Lasvar Republic to the east and the Pravoplavci County to the west.
Republic of Srnska Krajina
Edit
The Republic of Srnska Krajina is a brakeaway micronation ,which seceded from the Narentian Federation on the 20th september 2013. Its capital is in Šipkovo, and its president is Mirko Srnkić.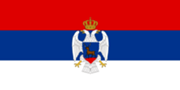 The republic has established relations with the Orthodox Kingdom of Narentia. However after they agreed to join Narentia, the Srnkians stopped all diplomatic activity with them. When The Republic of Srnska declared independence on the 1st October 2013, Mirko Srnkič recognized them immediately.
On the 3rd October however,  Mirko Srnkič accepted the Narentian offer and the territory of the krajina became a new federal subject of Narentia.
On the 5th october, ivo Pajčik agreed and joined Srnska, thus ending separatism in Narentia.
The current župan is Mirko Srnkič.
Federal Assembly:
Republics
Counties

Arbona,Diviaky County,

Pravoplavci

Srnska

Vis
Provinces
Okrugs
Federal cities

Novigrad
Existing nations

Republic of Srnska Krajina

Extinct nations

Republic of Nýsna , Patrachinate of Kazania , USIS, Republic of Srnska , Republic of Jadranska,Hetmanate of Kazania,Principality of Virdo ,Narentia, Republic of Prednádražie, Srnieckia,Itoriak republic Vartakia Izkania, Iztaria,

Seperatist groups
Seperatist groups no longer active

Musrati Republic, Republic of Kazania-Nýsna , Preskovan Republic, Suvak Republic,Cherrycream plot, Workers´ Soviet Republic Republic of Srnska Krajina Lasvar Republic Iryllian Armed Rebellion, Slobodarsko-Jablonječka Republic Prizrenija Republic Izornia rebels Izba-Ursanistan, Izbiak National State, Republika Slovenska Tarica