Narentia is composed of several exclaves, mostly accessible by sea.These exclaves are called banovinas and are mentioned in the constitution.
There are seven banovinas:
Poplavinska,
Sjeverna
Antarkticka
Poplavinska banovina
Edit
Located in west-central Slovakia, it has most control over the exclave. It is the historical heartland of the country, and consists mostly of the
Narentian Republic
and the
Lasvar Republic
.
It formed the northeastern part of the Prievidza district.
The banovina is bound by the Magura mountains to the west and Žijar mountains to the east. The northernmost point of the banovina is located near the Homuoljka mountain, the southernmost is located at the estuary of the Trebianjica river with the Plavina, to the north of the nearby Slovak town of Nováky.The westernmost point is found in the Njitrica valley, and the easternmost one in the Hrenovske lazi region (woodlands above Hrenovec, in the Zagorije region).
The highest hilltop is the Magura(1120) in the west, the lowest is the surface of the Plavina river at the southern border (240m). It borders the Slovak district of Prievidza to the west, south and northeast,Žilina to the northwest and Turčianske Teplice to the east.
The major rivers in Poplavina are the Plava (Njitra) river and its tributary the Mokrava (Handlovka) river. Most of the settlements lie in the Plavina basin.
Jadranska (Adriatic) banovina
Edit
Includes regions along the Adriatic coast of Croatia, from Istria as far south as Palagruža. It includes two areas- the Kvarner bay region-consisting of the Arbona a county, the Plavnik republic in the north,and the Dalmatia region, consisting of the Dalmatia and Vis counties. The banovina border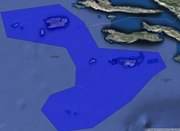 s with Croatia on land, and has a sea border with Italy.. The most southerly point is the Palagruža rock. The easternmost point of the banovina is an islet in the Vis county known as Glavat.
The banovina is home to many islands, of them the largest are: Vis,Arbona (Rab), Lastovo, Plavnik .
Sjeverna (Northern) banovina
Edit
The northern banovina is very small and
includes only the disputed island of Rockall in the North Atlantic.
Antarctic banovina
Edit
The banovina currently includes only the Kerguelens Archipelago. See:Kerguel
Narentia Topics
Ad blocker interference detected!
Wikia is a free-to-use site that makes money from advertising. We have a modified experience for viewers using ad blockers

Wikia is not accessible if you've made further modifications. Remove the custom ad blocker rule(s) and the page will load as expected.