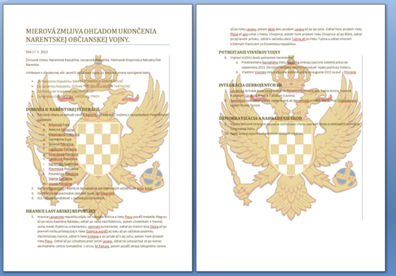 The Treaty of Novigrad was a formal peace treaty signed in the city of Novigrad, which formally ended the
Narentian Civil War
.
Signators
Edit
| | |
| --- | --- |
| | Zoran Tvrtković |
| | Marek Tvrtković |
| | Marek Tomanić |
| | Goran Kovač |
| | Jan Krapinski |
| | Jaroslav itrov |
Creation of the Narentian Federation
the provisional President of Narentia will be Ante Kolač
The Dictator will be Jan Krapinski
SLS will not candidate in the following elections
Establishment of the borders between the Narentian Republic and the Lasvar Republic.
Vladimir Vojislav , Vojislav Marković and Jaroslav Itrov cannot be elected until september 2013.
The Lasvarian army will be integrated into the Military of Narentia
The Narentian Defense Council will be integrated into the Military of narentia.
Everyone will try to repair the damage caused by the war.
A new constitution will be passed.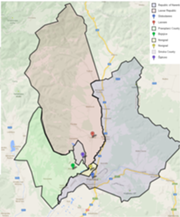 Narentia Topics
Ad blocker interference detected!
Wikia is a free-to-use site that makes money from advertising. We have a modified experience for viewers using ad blockers

Wikia is not accessible if you've made further modifications. Remove the custom ad blocker rule(s) and the page will load as expected.